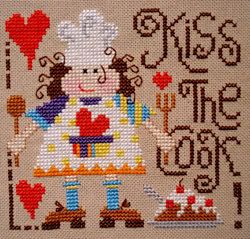 I'm so excited! Today I am sharing a recipe that Gina so graciously granted permission for me to post on my blog! It's a recipe that I found on her wonderful blog,
Gina's Weight Watcher Recipes.
I made it this past Wednesday... and I absolutely LOVE IT! And I loved it SO much that I could NOT keep this recipe to myself! As soon as I tasted it... I KNEW that I had to share it with all of you!
All of the recipes on her blog look SO tasty and nutritious! And she provides the calories per serving and WW points values, too. (Thanks, Gina!)
The recipe I'm sharing today, as posted on Gina's blog, is
Southwestern Black Bean Salad
. (I'm posting it here, but if you'd like to see a fantastic photo of this recipe, be sure to check out the link!)
"This colorful, high fiber, high protein salad makes a great side dish, appetizer served with chips, or lunch served with fresh tortillas. This salad is low in saturated fat and loaded with antioxidants. A perfect summer side dish for grilled meat, fish or chicken.
Southwestern Black Bean Salad
Gina's Weight Watcher Recipes
Servings:
12
•
Size:
1/2 cup
•
Prep Time:
10 minutes
•
Calories:
106
•
Points:
2.5 ww points
1 15.5 oz can black beans, rinsed and drained
9 oz frozen corn, thawed
1 tomato, chopped
1 small hass avocado, diced
1/4 cup red onion, chopped
1 scallion, chopped
1 lime, juice of
3 tbsp extra virgin olive oil
1 tbsp cilantro
salt and fresh pepper
Combine
beans, corn, tomato, onion, scallion, cilantro, salt and pepper.
Mix
with lime juice and olive oil.
Marinate
in the refrigerator 30 minutes.
Add
avocado before serving. "
Mmmm! This is the perfect snack when served with whole-grain tortilla chips and a low-fat string cheese. That's how I've been eating it the past few days. I just can't get enough of this stuff! It would be great to serve at a party or picnic. I HIGHLY recommend that you try this. Your taste buds will thank you!
And be sure to check out
Gina's blog
for even more tasty and nutritious recipes! (Thanks again, Gina!)
(PS: I didn't have scallions or fresh cilantro on hand... so I used a shallot and 2 t. dried cilantro instead. And... it was fabulous! Also... if you will be the only one in your household eating this, consider only making half of the recipe at a time. I think that's what I'll do next time I make it.)