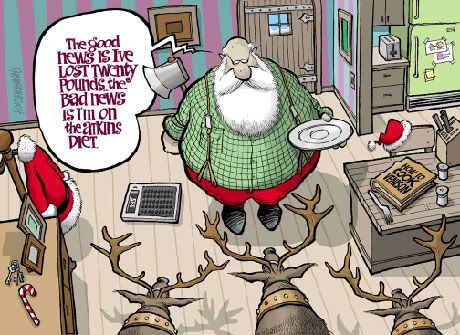 Here it is... only 2 days since Christmas... and even Santa is dieting. Those reindeer better run! lol
Actually... I haven't started my "diet" full-force yet. I'm kind of cruising through the rest of the year and just trying to cut back on everything, and I intend to get totally back on track after New Year's. I've joined
Shannon's Easter Challenge
, and the first weigh-in is scheduled for Dec. 31st. I'm hoping that this challenge will keep me motivated... and accountable. I have high hopes for 2008, as I'm sure we all do. And my first official goal is to lose 15 pounds by the end of the Easter Challenge.
I hope you all had a wonderful Christmas. It's been kind of quiet here in Blogland, and I've missed all of you. We've all been busy, but I'm looking forward to things getting back to "normal." I'm going to do a lot of soul-searching over the next few days, and I'm going to decide exactly what my fitness goals for 2008 are, and work out a plan to accomplish them. I'll post about it sometime before the end of the year. (By the way... what are
your
fitness goals for 2008?)
One more thing... I recently
won a prize
from
Diana the Scale Junkie
, and I received it the day before Christmas. Thanks, Diana!
I hope you all have a wonderful day! :)