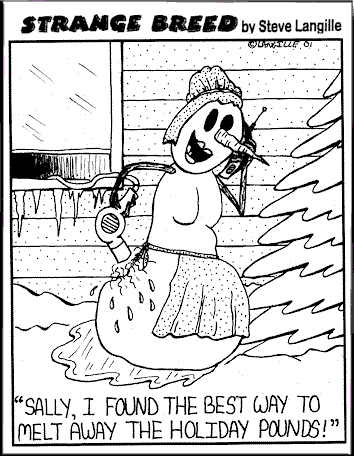 Today's weigh-in results...
Sunday: 375 lbs.
Today: 364.9 lbs.
Pounds Lost: 10.1
Yippee!
PS: I also want to share a comment that I left today on
Gibbons-Camp's blog
. I think I need to let it sink in as much as anyone does. And I know he would appreciate it if you'd all pop on over and cheer him on! :)
"Don't be discouraged! You are not alone!
I started my blog in August at 368.4 pounds. The lowest I got was 342. I weighed myself last Sunday, and I was 375... which is 6.6 lbs. more than I weighed in August... and 33 more pounds than I was at my lowest!
I weighed myself today, after being "on track" for 4 days, and I'm down to 364.9 pounds. That's 10.1 lbs. less than Sunday, and 3.5 lbs. less than when I started in August. (I hope I didn't bore you with these stats! lol)
Anyway, my point is... WE LOST WEIGHT THIS YEAR!!! That is good... no matter how you look at it! Sure, I wish I hadn't gained any weight back the past few weeks... but there's nothing I can do to change that. I can just move on from here and do the best that I can today... and tomorrow... etc.


You've lost A LOT of weight this year! Congrats on that! And I KNOW that you will continue to lose in 2008. So will I. We can do this! We WILL do this!
Keep the faith. Keep up the good work.

Let's learn from "the struggles of 2007" and turn

them into "the successes of 2008."
We didn't quit. We didn't give up. And we're not going to. 2008 is going to be our year!"