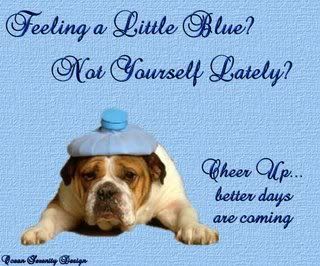 I am SO out of shape. And I am SO sad and disgusted.
A few weeks ago, I was taking a 1.6 mile walk almost every day. It took me about 33 minutes. And some days, I walked twice for a total of 3.2 miles. I was feeling great, and had a spring in my step. The more I walked, the easier it got and the better I felt. I felt almost like an athlete... or a soon-to-be-athlete. And I weighed a lot less.
These last few weeks of being totally off plan have taken their toll. But I didn't realize to what extent until I took a walk this morning. OMG... I could not believe the difference in how I felt! My endurance has totally gone down the toilet in a mere few weeks! Walking just seemed so much harder, and I was going so much slower, and I turned around half-way because I didn't think I could do the whole 1.6 miles! It took me 24 minutes to do 0.8 of a mile. That is how freaking slow I was going. :(
I feel sad and discouraged. I feel like a big, fat, hopeless cow. It's just sad when a person needs to lose weight before they can even feel good exercising!
Oh well, this isn't the end. This is just the beginning. All I need to do is do the best that I can every day. And the more weight I lose, and the more exercise I get, the easier it will be... and the more I'll be able to do.
This is just a yucky feeling. I feel so freaking OLD. There are senior citizens in better shape than I am. Ugh.
And now a bit of good news... I stayed within my calorie limit yesterday. It's good to have one good day under my belt.